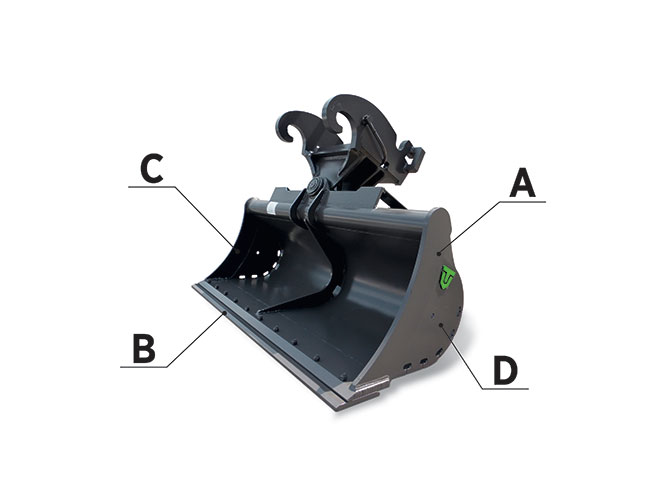 SWIVELING BUCKET
A. The swiveling buckets have the same profile and the same construction features as the ditch cleaning buckets. The addition of a hydraulic system of cylinders, horizontal or vertical, allows the tilting of 45° both on the right and on the left.
B. The bucket can be supplied with an additional bolted reversible under-blade to avoid wear of the blade used in the construction and includes one or more internal reinforcing ribs.
C. Indispensable for reclamation, cleaning and recovery of embankments in precarious working conditions for the operating machine.
D. Many profiles proposed for this bucket:
classic round profile for light applications;
square profile to level the ground or the material moved thanks to the welded rear levelling strip;
"Holland" profile with an elongated shape that allows a greater load capacity compared to traditional profiles;
"Scandinavia" profile with "conical" bottom appreciated in the countries of northern Europe;
"France" model in the version with both round and square profile, with greater depth and height to increase the load volume;
"talutage" model for heavy duty applications with cylinders in a fully protected horizontal position.
Please use the form below to enquire about the product you are interested in.
We would be pleased to answer you as soon as possible.