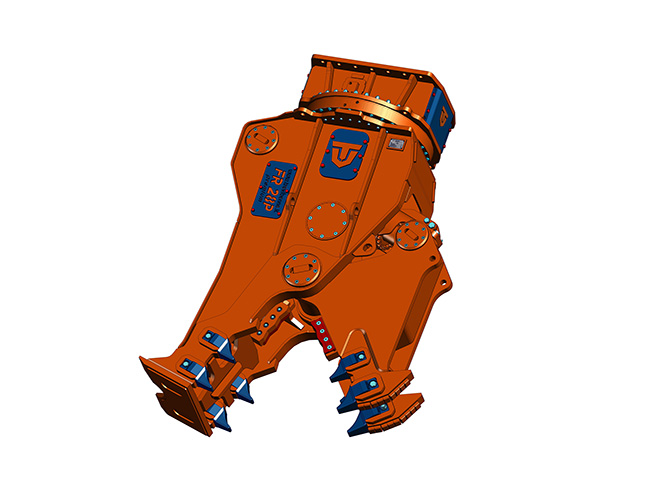 MODELS

4 (see the specifications in the data sheet)

WEIGHTS

from 4,695 to 8,818 lb

EXCAVATOR WEIGHTS

from 33,070 to 83,775 lb

OPENINGS

from 29,7 to 40,1 in

ROTATION

Yes
ROTATING PULVERIZER WITH BOOSTER VALVE PREMIUM FR SERIES
Rotating pulverizer for primary and secondary demolition equipped with power Booster multiplier valve.
The Impact BOOSTER valve, which characterizes the entire PREMIUM demolition line, allows to multiply the power - intended as the working pressure of the excavator - reaching a peak of 10,875 psi, entering into action automatically when the material to be demolished offers a great resistance.

Considerable benefits with lower operating pressure and oil flow:
- fuel consumption reduced by 20%
- reduced cycle time, opening/closing in 4 seconds
- increase power performance by 25%
- lower environmental impact
On site, reducing the opening/closing cycle of the jaws translates into time gained and a substantial increase in productivity.
Increased strength of the frame and the movable jaw in the positions most subject to wear
Rear frame closing to prevent entry of debris during demolition
FR PREMIUM
SERIES
Rotating pulverizer
TALK ABOUT US
Please use the form below to enquire about the product you are interested in.
We would be pleased to answer you as soon as possible.