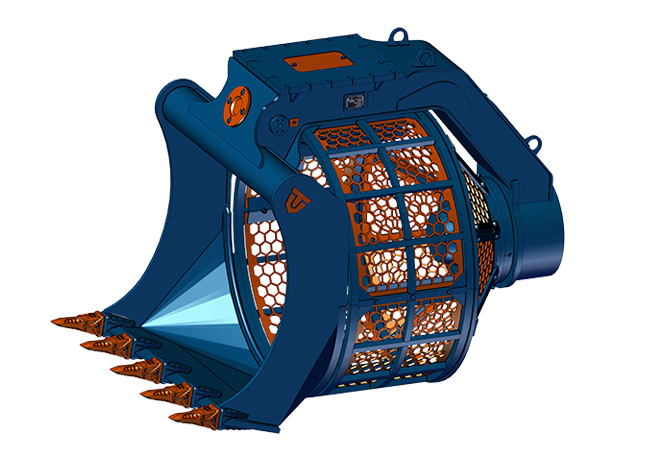 MODELS

9 (see the specifications in the data sheet)

WEIGHTS

from 240 to 10,800 lb

EXCAVATOR WEIGHTS

from 3,085 to 143,300 lb

WIDTH

from 520 to 2.120 mm

OUTPUT

from 0,08 to 2,7 m3
SCREENING BUCKET BVR SERIES
Extremely versatile and compact equipment, designed for selection and screening operations.
Recommended for:
- selection of pebbles along watercourses
- filling of containment cages
- selection of waste materials after a demolition
- reclamation of stony soils
- removal of stones along the beaches
- separation of organic waste in landfill
- aggregate recovery in building renovations
- maintenance of public and private green areas
- coverage of pipes in canalization works
Inlet profile inclined to facilitate loading of the material to be screened
Also available in wheel-loader version
Perimeter kit available in braided net or perforated sheet
Perimeter kit consisting of 4 calendered sections bolted to the basket easily replaceable by the operator
From the BVR 12e model the bottom is tapered to increase the screening surface
Integrated high-pressure relief valve that protects the motor against pressure peaks
Hydraulic components protected by the frame and easy to access for possible inspections
Double-turn ball bearing to fully support the screening basket
BVR
SERIES
Screening buckets
TALK ABOUT US
Please use the form below to enquire about the product you are interested in.
We would be pleased to answer you as soon as possible.