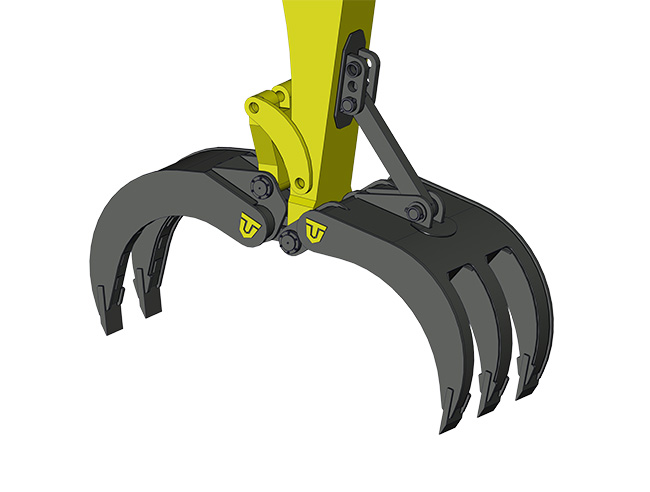 MODELS

15 (see the specifications in the data sheet)

WEIGHTS

from 210 to 24,250 lb

EXCAVATOR WEIGHTS

from 2,645 to 374,800 lb

OPENINGS

from 39,5 to 197 in

ROTATION

no
MECHANICAL HANDLING GRAPPLE RG SERIES
Ideal in lifting, transport and loading operations in recycling centers, waste loading/unloading, demolition work, scrap handling and rocks.
Model with "independent fulcrum": it pushes on a saddle attacks placed on the jaw and not directly on the fulcrum. Extremely easy to use when handling large boulders.
5-tooth configuration, 2 on the front and 3 on the back
Totally built in HARDOX 400
No hydraulic system required because it exploits the thrust force of the piston of the excavator's penetrating arm
Connecting rod and support to be welded supplied with the grapple
Support with 3 holes: 3 positions = 3 different jaws opening
Greasing points on the fulcrum pins
Please use the form below to enquire about the product you are interested in.
We would be pleased to answer you as soon as possible.